Stuggy's
809 South Broadway
Baltimore, MD 21231
Phone: 410-327-0228
Thursday - Saturday: 11am -
3am
Sunday: 11am-5pm
Knowing my husband's all-consuming love for hot dogs, when I heard about this place I figured we'd have to go sooner or later. We chose sooner. As for me, hot dogs aren't a holy grail food, but I can appreciate a good dog now and again.
First of all, I love this location. Fell's Point is one of my favorite areas of the city. I love how close and intimate all the shops are with each other, the proximity to the water, the fact that you can have a great meal and then five feet later have a great dessert/beer/drink/whatever. It rocks.
This place is tiny. There are only four stools in it and when we walked in, all four were covered in teenager. We stared hungrily at the chalkboard menu for a few minutes, I had already decided on the Motor City Coney (1/4 all beef dog covered in chili, shredded cheddar cheese and diced raw onion...just like they make 'em back home) and Dave settled on a #3, two dogs, fries and a drink.
I will apologize for not having taken pictures of our actual foods, we both had inhaled our dogs and then realized "Oh crap, the blog" so we found some photos online of their food. I will testify that what you see in these photos is what you will get at Stuggy's.
The food came fast. We requested that the Teens working boot their loitering friends and they did. We sat down to eat. I loved my dog. It was fabulous. Crohn's be damned. I ate that chili like...a person who can eat chili and not end up in blinding pain an hour later. Usually I dislike raw onion but it was excellent on this dog. The chili was plentiful, the cheese was fresh and gooey and the onions crunchy and...pungent, as onions tend to be. The stomach ache I eventually suffered through was worth it.
I ate all of Dave's fries too. These fries were very different than any others I've ever had. They were fresh cut, no doubt about it, covered in sea salt, but they tasted almost like they'd been refired as they were slightly chewy. Still a really good flavor, just odd texture.
The soda they have here is like no soda anywhere else.
Boylan Soda Co.
It's some fancy pants odd flavored soda (think if Jones had a fountain machine, but not as delicious). With flavors like Black Cherry, Orange Creme, and an odd tasting Root Beer, the soda selection was a tad disappointing for me. I liked the idea of the unique variety, I'm just not a fan of the "creme" variety of anything.
Overall, I give it
3 out of 5 noms
.
Dave's 2 Cents:"I'm not even supposed to be here today!"
This place pissed me the F#*k off.
It was as if an
Oscar Mayer
hotdog and
"Clerks"
the movie had a baby and gave it up for adoption in Baltimore.
On entering this establishment with no A/C in 100 degree weather, teens behind the counter not greeting us, and the only places to sit and eat were occupied by the employee's loitering friends, my temper grew fast.
At the point where our "to go" food was handed to us in "eat in" fashion, is when i started getting snarky.
As I tried to communicate with one of the employees over the blaring Death Metal music playing overhead, I asked if all these kids were their friends. When he said yes, I requested he tell them that they need to make room for paying customers.
On the flip side: The hot dogs were awesome, some of the best I have ever had. Surprisingly they were 100% beef, which I prefer Chicken/Pork.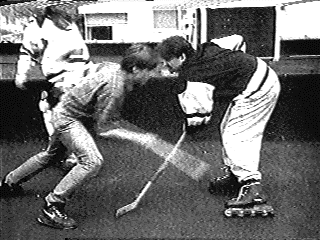 I would suggest that the owner possibly think about doing some random walk ins or secret shoppers, but its really not worth it for what it is, a glorified hot dog stand in a popular bar district.
I just wouldn't be surprised if you caught the employees playing roof hockey at some point during the day...